On Sale Now
A New PK FOR A NEW GENERATION
When we decided to expand the family of PK Grills for the first time in 40 years, we were determined to maintain all that is great about our award winning Classic PK Grill & Smoker, while adding improvements, modern functionality, versatility and a premium aesthetic.
Our design brief for the PK360 was "no compromises."  We hope you'll agree that this is the highest quality, best performing, premium charcoal grill and smoker that you can find for your money and we are proud to introduce you here to the all new PK360 Grill & Smoker. The best and last grill you'll ever own.
---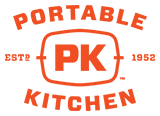 THE PK360 GRILL & SMOKER
PK360 Features
Overview – The PK360 is the new mid-size PK Grill & Smoker. With 360 square inches of cooking space, plus included shelves and stand, the PK360 is setting a new standard for the high-end charcoal cooker by offering more value than other high-end charcoal cookers like Big Green Egg L and the Primo L300.
Large Cooking Surface – At 360 square inches the PK360 is nearly 40% larger than the most popular Big Green Egg size, the 18-inch Large.
Super Versatile – PK360 demonstrates exceptional performance in both hot and fast (grilling) or low and slow (barbecue) cooking situations. It's unique capsule shape makes one-zone and two-zone cooking setups easy and fun.
Competition Quality – PK Grills cast aluminum has proven to be the competitors choice in steak competitions across the U.S. The 2014, 2015 and 2016 SCA World Championship Steaks were all cooked on a PK Grill. And it so easy to use that a novice can make a great steak every time.
Durable – PK360s cast aluminum construction is more durable than porcelain Kamados which can be fragile. PK Grills are often lifetime purchases handed down from one generation to the next. Every new PK has the potential to become an heirloom grill.
Easy & Precise Temperature Management – The PK360s combination of thick cast aluminum and 4-way venting provides users a with a very heat efficient cook chamber with easy 2-zone set-up and more control than single-vent Kamados.
Ergonomics – The PK360 includes two massive, removable shelves with a unique Leading Edge wire system for hanging accessories, offering maximum function for prep and cooking.
Ash Management – The PK360 has incorporated a unique ash management solution which controls ash within the cook chamber and makes clean-up and disposal easy.
Portable – As with all PKs, the PK360 detaches from its stand easily so you can take it with you. Great for tailgating, camping, fishing/hunting cabins, etc. Try that with a heavy Kamado.
Marine Grade Stainless Steel – Both the hinged cooking surface and the lower charcoal grate are made from the highest quality stainless steel available – Marine Grade.
Beautifully Designed – The PK360 raises the design bar for the charcoal grill industry. The core: the cast aluminum grill capsule identifies this grill immediately as a PK. The addition of great design features, like the beautifully simple pedestal stand, the unique and user-friendly cylindrical air intake controls, elegant but tough as nails black Durabilium ™ shelves and thoughtful details like the accessory bar, lock/release hinges and rear stabilizer hooks will make it a high end object of desire.
A History of Portable Kitchen
The first PK Grill & Smoker was created in Tyler, TX in 1952 by an inventor and local businessman named Hilton Meigs. The simple venting system and aluminum construction produced a grill that excelled at both hot and fast grilling and low and slow barbecue cooking. Meigs sold the popular grill all over the mid-south. The company was purchased from Meigs in 1958 and moved operations to Little Rock, Arkansas where they exist today.
Portable Kitchens Inc. was a major producer of charcoal grills during the 1950s and 1960s until a fire, business issues and the unchecked proliferation of disco music halted operations in the 1970s. No PK Grills were produced for nearly three decades when a local attorney and PK enthusiast named Paul James found one at a yard sale in the late 1990s.
As a testament to the durability of the PK Grill, James found the yard sale PK to be fully functioning. After cooking a deliciously moist pork shoulder for his family and a gathering of curious neighbors, he was compelled to commission a mold of the old cast aluminum grill which he then used to begin producing the PK Grill & Smoker again.
Almost forty five years to the day after the first Portable Kitchen grill popped out of its mold in Tyler, Texas, Portable Kitchens was back in business with the PK Grill & Smoker.
In 1952 the PK Grill was the best outdoor cooker money could buy and one could argue that it has remained so over its history. In 2016, Portable Kitchen embarks on a journey to again make the best outdoor cooker your money can buy. Your new PK360 Grill & Smoker is the result of several years of design and development and over sixty years of outdoor grilling excellence. It is the new generation of PK Grill.
Previous
Next
The Cast Aluminum PK360 is Superior in Performance and Value to Leading Ceramics
Big Green Egg Large
PK 360
Primo L 300
Price
$879.99
$899.99
$1,032.00
Fuel Type
Charcoal
Charcoal
Charcoal
Primary Cooking Surface (sq. in)
262
360
300
Venting
1 in, 1 out
Configurable 2 in, 2 out
1 in, 1 out
Construction
Porcelain enameled ceramic
Durable cast aluminum
Porcelain enameled ceramic
Cooking Surface Material
Stainless Steel
Marine Grade Stainless Steel
Porcelain enameled steel
Stand
Not Included
Included Aluminum Control Tower™
with cast aluminum base
Not included
Shelves
Not included
Removable, Included
Not Included
Weight
162 lbs
95 lbs
145 lbs
Project Update
Policies
The is a pre-sale opportunity and many of the images shown are of pre-production, prototype units. Actual units may vary slightly in color and design. We will do our best to keep you updated about any major changes to the product that occur prior to shipping. These updates can be found in the 'Project Updates' section of this site.
In cases where a reservation is made for less than the full purchase price of $899.99, the balance must be paid in full prior to shipping. We will contact you up to 30 days in advance of your scheduled ship date to pay your balance.
If you are not satisfied with your new PK360 Grill & Smoker for any reason, please contact us at (866) 354-7575. This product carries a 60-day no questions asked satisfaction guarantee and you may return it for any reason, used or unused. Free returns apply only to grills purchased online at pkgrills.com and shipped to destinations in the continental US.  All returns and exchanges must include all of the original parts, components, packaging and manufacturer documentation for refunds to be issued.